Winners of the #RDA2017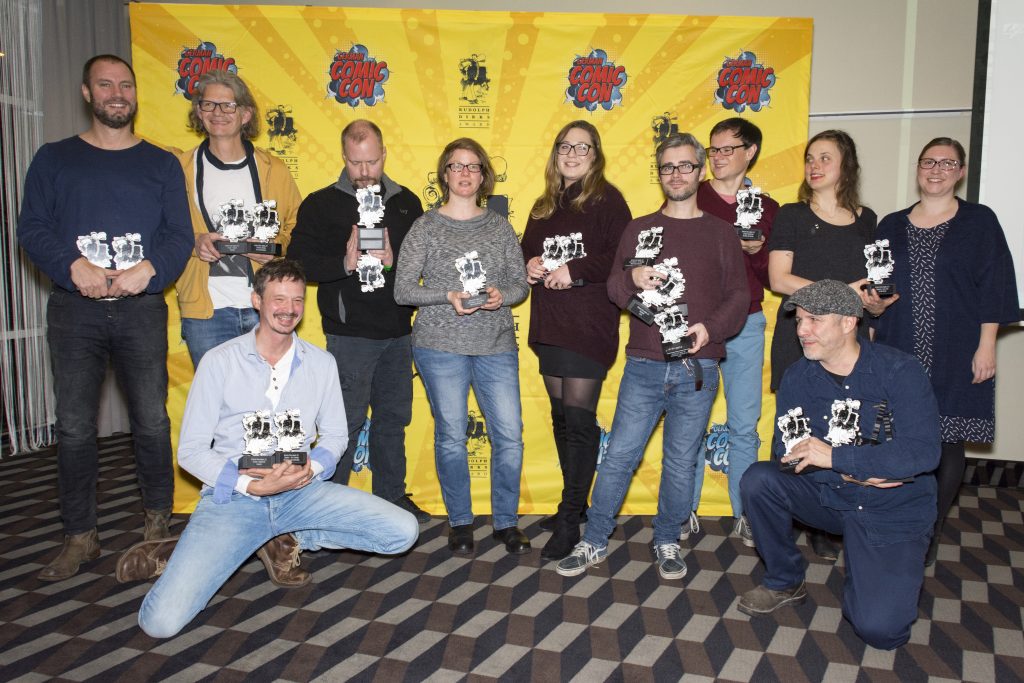 Again for the second edition of the Rudolph Dirks Awards for Graphic Literature some of the most acclaimed – by German audience and critics! – artists in 2016/2017 as well as German language comic/manga publishers attended the show in December 2017, taking place during German Comic Con Dortmund.
Among them artists like Thomas von Kummant, Thilo Krapp, Alice Socal, (on their knees) Benjamin von Eckartsberg or Uli Oesterle, and representatives like Uwe Lochmann (Splitter Verlag), Steffen Volkmer (Panini Comics), Neele Thäsler (Cross Cult), Lea Hübner and Filip Kolek (avant-verlag, Reprodukt, Edition Moderne) or Rita Fürstenau (Rotopol Press).
---
Best publications (by genre)
Funny / Comedy
2016: Noch ein Ratgeber für schlechte Väter (Guy Delisle)
2017: Nimona (Noelle Stevenson)
Super Hero
2016: Ms. Marvel (Willow Wilson / Alphona)
2017: Dark Night: Eine wahre Batman-Geschichte (Risso / Dini)
SciFi / Alternate History
2016: Weltraumkrümel (Craig Thompson)
2017: Gung Ho (von Kummant / von Eckartsberg)
Fantasy
2016: Mouse Guard (David Petersen)
2017: Saga (Vaughan / Staples)
Supernatural / Mythology
2016: Saga (Vaughan / Staples)
2017: Paper Girls (Chiang / Vaughan)
Horror / Gore
2016: In the Pines – 5 Murder Ballads (Erik Kriek)
2017: The Walking Dead (Adlard / Kirkman)
Crime / Thriller / Spy
2016: Ich, der Mörder (Altarriba / Keko)
2017: Maggy Garrisson (Oiry / Trondheim)
Action / Adventure
2016: LastMan (Vivès / Balak / Sanlaville)
2017: Gung Ho (von Kummant / von Eckartsberg)
Youth Drama / Coming of Age
2016: Ein Sommer am See (Mariko & Jilian Tamaki)
2017: Totem (Ross / Wouters)
Social Drama / Slice of Life
2016: Schöne Töchter (Flix)
2017: Die Leichtigkeit (Catherine Meurisse)
Historical Drama
2016: Arsène Schrauwen (Olivier Schrauwen)
2017: Auf die Barrikaden (Mazel / Lupano)
Biography
2016: Drei Steine (Nils Oskamp)
2017: Geisel (Guy Delisle)
Romance / Love Story
2016: Ein Ozean der Liebe (Lupano / Panaccione)
2017: Cry Me a River (Alice Socal)
Mature / Erotic
2016: Love Addict (Koren Shadmi)
2017: Olympia ( Vivès / Ruppert & Mulot)
Experimental / Alternative
2016: Das UPgrade (Graupner / Wüstefeld)
2017: Esthers Tagebücher: Mein Leben als Zehnjährige (Riad Sattouf)
Documentary / Scientific
2016: Der Realist (Asaf Hanuka)
2017: Im Schatten des Krieges: Reportagen aus Syrien, dem Irak und der Türkei (Sarah Glidden)
Literary Adaptation
2016: Münchhausen – Die Wahrheit über das Lügen (Flix / Bernd Kissel)
2017: Der Krieg der Welten (Thilo Krapp nach H. G. Wells)
Re-edition of classic material
2016: Corto Maltese – Gesamtausgabe (Hugo Pratt)
2017: Akira – Gesamtausgabe (Katsuhiro Otomo)
---
Best artists (by region)
North America – Best Scenario
2016: Robert Kirkman (Outcast, The Walking Dead)
2017: Brian K. Vaughan (Paper Girls, Saga)
North America – Best Artwork
2016: Babs Tarr (Batgirl – Die neuen Abenteuer)
2017: Cliff Chiang (Paper Girls)
South Amerika – Best Scenario
2016: Hector G. Oesterheld (Eternauta) – post mortem
2017: Marcello Quintanilha (Tungstênio)
South Amerika – Best Artwork
2016: Francisco Solano López (Eternauta) – post mortem
2017: Marcello Quintanilha (Tungstênio)
Asia – Best Scenario
2016: Jiro Taniguchi (Ihr Name war Tamoji, Die Wächter des Louvre)
2017: Yoshitoki Oima (A Silent Voice)
Asia – Best Artwork
2016: Naoki Urasawa (Billy Bat)
2017: Jiro Taniguchi (Venedig, Ice Age Chronicle of the Earth) – post mortem
Africa & Oceania – Best Scenario
2016: Simon Hanselmann (Hexe Total)
2017: no winner
Africa & Oceania – Best Artwork
2016: Simon Hanselmann (Hexe Total)
2017: Nicola Scott (Black Magick, Wonder Woman)
Europe – Best Scenario
2016: Lewis Trondheim (Ralph Azham , Herr Hase)
2017: Matthieu Bonhomme (Der Mann, der Lucky Luke erschoss)
Europe – Best Artwork
2016: Brecht Evens (Panter)
2017: Uli Oesterle (Kopfsachen)
Germany – Best Scenario
2016: Tobi Dahmen (Fahrradmod)
2017: Benjamin von Eckartsberg (Gung Ho)
Germany – Best Artwork
2016: Sascha Wüstefeld (Das UPgrade)
2017: Thomas von Kummant (Gung Ho)