The RUDOLPH DIRKS AWARDS are coming back!
This October booksellers, staff members of comic book publishers and associated sectors, journalists, cultural managers and comic creators will again vote online for the winners of the RUDOLPH-DIRKS-AWARD for graphic literature.
Before that happens the short-list-jury inlcuding 9 members will have to examine more 200 publications and nearly 100 artists once more, because in the end there can be only 3 nominees in each category.
The final winners will be announced during German Comic Con Dortmund in early December.
---
The RDA winners 2016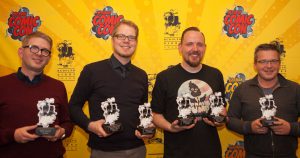 Some of the winners 2016: Tobi Dahmen, Flix, Sascha Wüstefeld and Nils Oskamp.
---
Best publications (by genre)
Funny / Comedy:
Noch ein Ratgeber für schlechte Väter (Guy Delisle)
Super Hero:
Ms. Marvel (Willow Wilson / Alphona)
SciFi / Alternate History:
Weltraumkrümel (Craig Thompson)
Fantasy:
Mouse Guard (David Petersen)
Supernatural / Mythology:
Saga (Vaughan / Staples)
Horror / Gore:
In the Pines – 5 Murder Ballads (Erik Kriek)
Crime / Thriller / Spy:
Ich, der Mörder (Altarriba / Keko)
Action / Adventure:
LastMan (Vivès / Balak / Sanlaville)
Youth Drama / Coming of Age:
Ein Sommer am See (Mariko & Jilian Tamaki)
Social Drama / Slice of Life:
Schöne Töchter (Flix)
Historical Drama:
Arsène Schrauwen (Olivier Schrauwen)
Biography:
Drei Steine (Nils Oskamp)
Documentary / Scientific:
Der Realist (Asaf Hanuka)
Experimental / Alternative:
Das UPgrade (Graupner / Wüstefeld)
Romance / Love Story:
Ein Ozean der Liebe (Lupano / Panaccione)
Mature / Erotic:
Love Addict (Koren Shadmi)
Literary Adaptation:
Münchhausen – Die Wahrheit über das Lügen (Flix / Bernd Kissel)
Re-edition of classic material:
Corto Maltese – Gesamtausgabe (Hugo Pratt)
---
Best artists (by region)
North America
Best Scenario: Robert Kirkman (Outcast, The Walking Dead)
Best Artwork: Babs Tarr (Batgirl – Die neuen Abenteuer)
South America
Best Scenario: Hector G. Oesterheld (Eternauta)
Best Artwork: Francisco Solano López (Eternauta)
Asia
Best Scenario: Jiro Taniguchi (Ihr Name war Tamoji, Die Wächter des Louvre)
Best Artwork: Naoki Urasawa (Billy Bat)
Africa & Oceania
Best Scenario & Best Artwork: Simon Hanselmann (Hexe Total)
Europe
Best Scenario: Lewis Trondheim (Ralph Azham , Herr Hase)
Best Artwork: Brecht Evens (Panter)
Germany
Best Scenario: Tobi Dahmen (Fahrradmod)
Best Artwork: Sascha Wüstefeld (Das UPgrade)